Tiny House Moving Update!
I haven't moved my tiny house in over 5 years!  I had no idea how long I could leave it there when we moved it to it's current location.  Maybe a week, a year, not at all. A concrete pad was a big cost that could have been unused. It really didn't make sense for me to lay down a concrete pad for it.  So, I parked it on the dirt, put it up on blocks and figured I'd see what happened.
I landed on the best case scenario!
It's been over 5 years. I've been able to have some meaningful discussions with the City. We have made huge progress with tiny house codes nationally. All the framework is in place to take things forward to zoning. Our neighborhood has grown a lot, in both good and bad ways. The empty lot that the tiny house has sat on for the last several years has increased in value. It seems like a wasted opportunity to use a city lot to host a single tiny house. So it's moving.
I don't have the details figured out about where so today, I officially rented a lot in a storage facility. We'll be living in limbo while we design and general contract a 'standard' house on our lot which we will either sell or rent out for income.
What I'm Feeling:
I am both super sad about this but also pretty excited. There is no way to describe the level of fear you feel when getting ready to move your baby, I mean tiny house. I don't even know why!  I know it's sturdy. Even if something breaks I know I can fix it.  Sitting somewhere where I cant keep an eye on it worried me. Even though the entire last year+ we have been traveling around the country with it sitting out in the open and not one thing happened to it.  Something instinctively makes me try to protect it and worry about it.  It will be sad to drive around the corner and NOT see it sitting in it's place. This is where I remind myself that the tiny house is just another 'thing'.  If it all goes away tomorrow it will have been worth it and I will be ok.
I am happy about this next phase.  James and I have some bigger goals now (and they definitely DO involve being reunited with the tiny house, just in a different spot in the country).  We're doing the work it takes to make those things a reality.  It's a time of transition and those things do take time.  I feel like I did when building the house. Work is happening, even if you can't see it every day, there is a lot of work being done!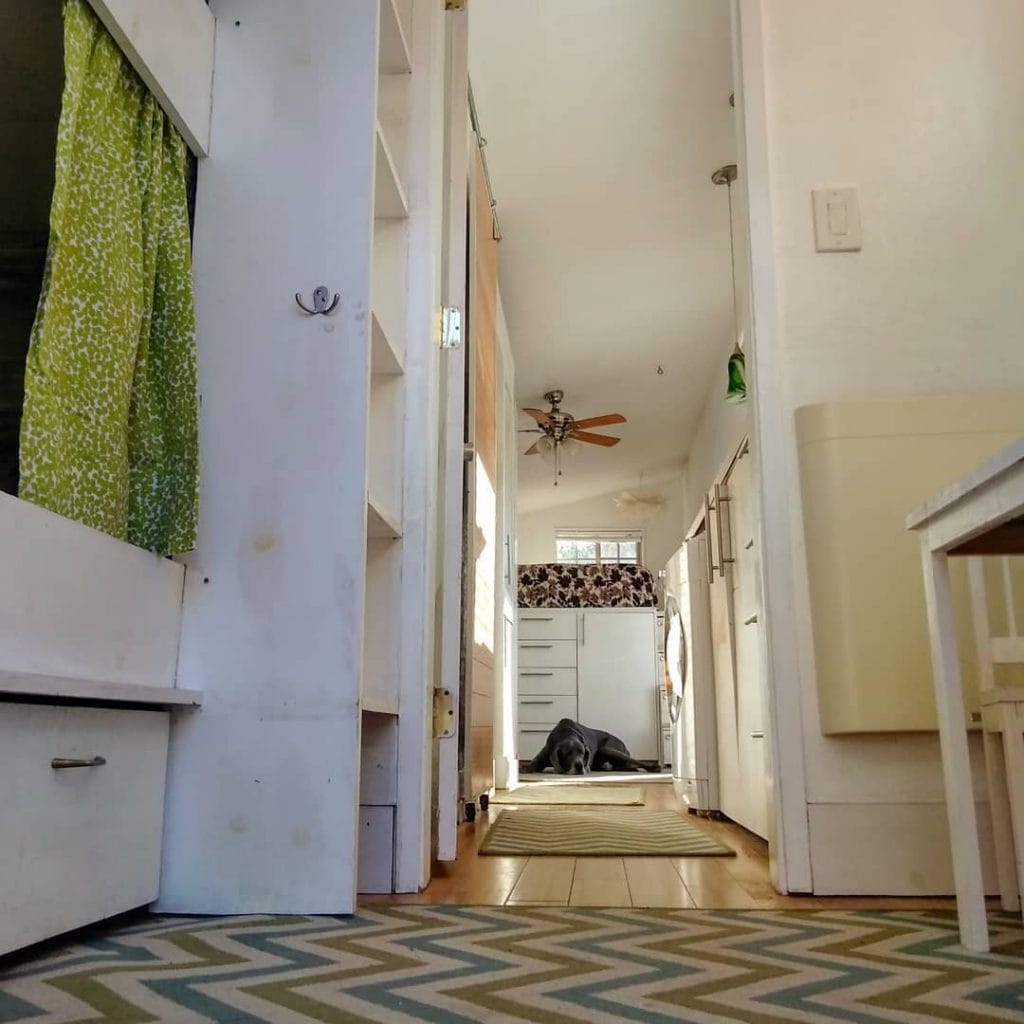 What we have done to stabilize the house for storage:
We've got work to do since we didn't have a pad to park on and we've gone through 5-6 freeze/thaw cycles. AND we're at the end of an irrigation line (we get flooded yearly, we're basically in a marsh)!  We sank into the ground a solid 9-10 inches.  It's been uniform so we didn't really notice it but it would be a bear to pull the house out unless we raised it and build some sort of temporary road.  So that's what we've done.  I bought 4 12-ton jacks and we've been inching the house upward enough to dig out the topsoil under the wheels in preparation for making a gravel path.  It's not easy and had I known I'd get to be here for 5+ years I would have done a lot of things different.  It is what it is though, one small step at a time, just like building the house was!
The shortlist of to-do items
Fix leaf spring (done) – we had one axle that wouldn't sit tight on the leaf spring due to the home-made nature of our trailer it was lacking a connection.  We didn't know about this until we moved the house and while backing up it came loose.  We fixed but it needed a more permanent fix before we moved it again.
Raise House (done)
Build road (done)
Reseal siding/paint trim (done)
Check waterproofing seals (done)
Staple siding that has warped over the years (done) – pallet wood is not the highest quality, minor warping was expected.
Secure parking for storage (done – thankfully! this region gets busy for winter parking)
Move tiny house to street (Hopefully any moment now!)
Hire tow truck (as soon as it's street side)
Things to do to the tiny house for storage
We learned a few things about storing the tiny house after leaving it empty for 13 months.  First, all the food is removed. all the valuables are out. any temptations are [hopefully] gone!  I have taken any breakables (kitchen lights) down and protected them.  Any free standing stuff will be carefully laid on the floor.  All lines and the appliances have been drained of water.
If you can think of anything I haven't thought of, PLEASE, share! I'd love to do this the right way!
Here are some photos of how we are leaving the tiny!