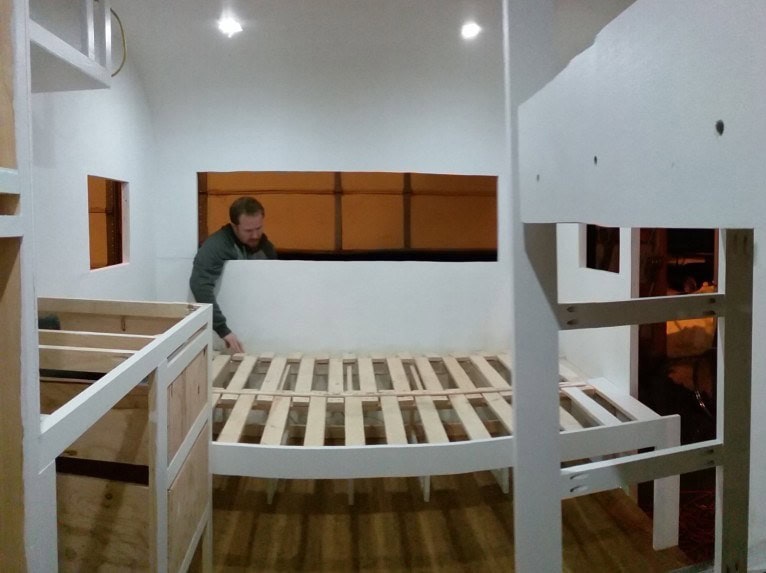 I took yet another sick day.  My kiddos have had minor colds but they make for terrible nights of sleep.  The next steps from me involved my most feared tool… the table saw so I thought it would be better if I was well rested before I mess around with that!  I am glad I did because I did work just a little on the kitchen to get it ready to install the drawer/cupboard faces and I messed stuff up at every single turn.  I wasn't quite able to catch up on sleep until last night so I didn't do too much.  I DID place an order on Amazon for some things like scissor jacks, hinges for my new table design, and a lemon yellow tea kettle.  I ALSO managed to figure out a way to incorporate a 2'x3′ dining/craft table into the mix (which has been bouncing around in my mind since the beginning).  It's something I couldn't quite figure out but once I embraced the 'day off' it seemed to work itself out… now to see if I can figure it out in real life! ha!
James worked more on the lights and power set up, we have all the different switches wired and running, we hook it up to a battery to run it currently, he needs to run the two AC outlets and the air conditioning/heater unit still and provide the plug to be able to plug it all in.  We also managed to play catch up and order the heater part for the air conditioning unit we picked up, so now we have an electric heater and air conditioner.   We will also need a gas heater but we will put that off a bit more.
I was going through the timeline photos and it really made me feel better.  I did add a tab to the site to get a shortcut to the timeline photos of the Aloha, similar to the one I have for the tiny house.  This has pretty much been a one day a week project since last June-ish… and not usually a full day.  It has felt super slow but honestly, after looking at all the photos and remembering each of the steps, we have made pretty good progress!  I would say we are about 75% of the way there!  We have some finish work, plumbing and the exterior to do but I am still feeling good about our April 19th take off date!  It was good to take a step back, and even better that I am learning my boundaries.  I still have all my fingers and haven't broken any bones on this build, more than I could say for that tiny house!  And it was nice to take a glance through the progress and feel a tad accomplished!  Here is the timeline photos as of now for the camber from purchase to current!
Be back soon with a real update!  Hope you've been well!