July 25, 2014 § 3 Comments
I have been asked a lot how to make my DIY barndoor that I use in my tiny house.  I put together detailed instructions in my plans and am offering them as a free download when you sign up for my newsletter.  Click HERE to sign up for my newsletter and download the instructions!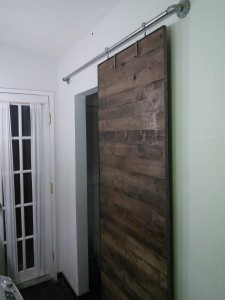 July 25, 2014 § 6 Comments
I have undergone a little bit of a tiny house remodel.  It's been a long time coming, I have been needing to add a rail to my bed so that little miss Hazel didn't take a digger.  About two weeks ago we were playing in the bed, I went and got a bowl of cereal, came back and she had moved like 3 feet!  My mind went 'UH-OH! gotta get on that rail!'  So, away I went.  I was not convinced it was going to turn out well throughout the building process but I have to say, I am happy with how it turned out!  I actually like the looks of it and I like the feel of it!  It gives the bedroom a touch more privacy.  AND I love my new family photos!