I made mention before about doing an iridescent wall mural in the kids' room like this: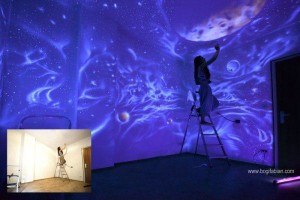 Something that looks plain white in the day but at night you could flip on a black light and it would glow.  I got back some great feedback from a reader saying I should be careful about having a black light in the kids' room so it doesn't hurt their eyes… It's something I hadn't gotten far enough along to consider.  I could hide a black light behind a soffit or something but James and I had another idea.  Why not just have it be a plain ole mural, visible during the day instead of hiding all the hard work AND add glow in the dark paint to the windows/lights so that it was a night scene at night!  I think that would look awesome!
I really want to do some sort of 'village', those are the pictures that I liked as a kid, you can make up stories about the things that live in the houses.  Growing up it was a good way to let my mind wonder and drift off to sleep.  I think it would look really cool too.  I suppose some of this depends on the sex of #2 here, we won't know that for a few more weeks but I am getting some ideas together.  Hazel loves fairies.  I know it's weird, sh'es too young to really know anything about anything but seriously the only show she actually sits and watches is Tinkerbell.  She's had an interest that way for several months already (I got a girly girl, no idea where she got that from, it wasn't me!).  That sent me on the path to a forest.  Then I went to tree houses because they would be awesome!  So… if you were to paint a mural in a couple of kids' rooms, what direction would you lean?  Do you know of a high quality glow in the dark paint that lasts for a while and WORKS?
I think my number one would be an interconnected tree-house scene, I am afraid it will make things look dark but I think I can paint it in a way that it won't look dreary…