Tiny House Reno – Material List
The weather is getting nicer, that means I'll get o build shortly!  In preparation I'm getting my material list together for the tiny house renovation.  It's nothing fancy, just some quick drawings to figure out what I need to see more of the design you can look here.  Here is what I have: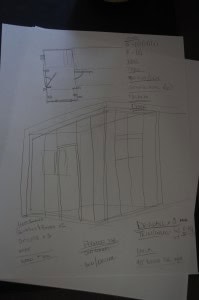 (17) – 10′ 2x4s – New
(3) – 8′ 2x4s – New
(1) – 10′ 2x6s – New
Nails/Screws – New
Tyvek (scrap) – Salvaged
TPO Roof OR sealant tape (I will have to patch the window opening in the patio, not sure I want a patched hole or to redo the entire section of roof)
(7) 2′ x 10′ corrugated metal sheets – Salvaged
Flashing – (I think I have enough left over)
30″ door – Salvaged
(8) 3/8″ or 1/4″ drywall/mud/tape – New
(2) 1×2 poplar trim – New
(3) 1×4 poplar trim – New
(6) tubed of caulk – New
(4)1-1/2″ insulation, 4'x8′ – Salvage/new
(8)2″ insulation, 4'x8′ – Salvage/new
90 degree angle for water heater vent (this will need to be relocated) – New
(4) Plywood sheathing – I have
(1) bedroom Light fixture – Salvage/New
(2) Switches and electrical boxes – New
(3) Outlets and boxes – New
Electrical wire – New
Wood flooring throughout – Salvaged
This I don't have a material list for, I'll get that together once I get done with the walls and such.  This bunk bed setup will have storage up above and below, along with a couple roll out storage bins/stools to read bedtime stories.   I will be reusing the co-sleeper I made and converting it into a bunk and using the rail as the toddler rail.  In reality the new baby will be co-sleeping with us for a while (and I'm sure Hazel will find herself back in our area at times too… its what kids do).  So in reality the bottom bunk may be the only one used for a while but I want to have both spaces available.