Jay Shafer is Doing a Workshop! Oct. 4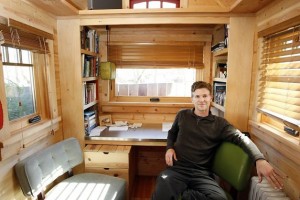 I got a pleasant email the other day and just wanted to pass on the info for anyone that may be in the bay area.  Jay Shafer from Four Lights (He comments on MY blog one time, it was a highlight of this whole adventure!)  is doing a reasonably priced workshop at his house!  You get info, a tour of his house and a tour of BA's house (and maybe you get to meet her dog too!?)  I haven't seen Jay doing a workshop in a while and I am happy to see him back at it!
Here's the info:
'I want to present a local workshop for Bay Area Meetups' – Jay Shafer
​October 4th, 2014, Graton, CA (just west of Santa Rosa)​
​"​There's a lot of erroneous building information being bandied about in the small house world these days, and half of it originated with me. When I designed and built my first tiny house I knew virtually nothing. Now, it seems like I know almost all there is to know about wee abodes and little about anything else. It pains me to see folks building big problems into their little houses because they got some bad information from someone who seemed like they knew what they were talking about. 
Because I am limiting the gig to 6 1/2 hours plus another hour 1/2 for lunch in the middle and hosting at my in Graton (near Sebastopol, CA) instead of me and my Power Point show flying out to some fancy-shmanzy conference room somewhere, I can swing it for $140 per person, instead of the usual higher rate. As an added bonus, we could spend the last 40 minutes of the day touring my tiny house.  And BA says she will open her tiny house for tour for 30 minutes in the morning.)
I'd cover building, design and regulations, and there will  be a lot of time for Q&A, since the barrage of questions I was getting at Alek's recent gig is what spurred this idea in the first place.  I won't limit the event to just Bay Area Meetup people, but that is likely where the bulk of folks would probably be coming from. I'll send this idea off to the East Bay Claustrophiles now too.  Anyone is welcome to attend, however.
I'm looking forward to this workshop format – local and more casual than my usual workshops.  Thank you! "~Jay Shafer
It was also mentioned that "if someone from out of town is interested in attending but can't make it in person, I would suggest leaving a message on the Meetup page letting Jay know they can't be there in person but would like to Skype in if possible. If there are enough people interested in that option, I think he'll make it happen."  So there is that!